A
Abaddon - Raja Setan Neraka. Alias Apollyon (berasal dari Yunani)

Abigor - Iblis yang menunggang kuda dan membawa tombak. Di neraka, dia membawahi 60 legion iblis (kayanya orang penting ni gan..)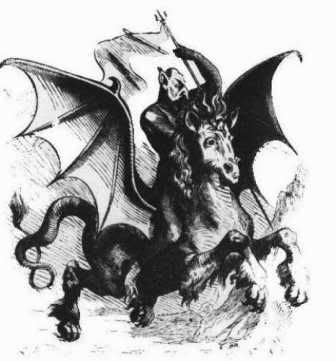 Adramelech - Setan neraka yang merupakan penasehat dan ketua dari dewan setan tertinggi (mungkin macam ketua M*R)

Aguares - memerintah 30 legiun di neraka. Juga merupakan Adipati neraka wilayah timur

Akop - Setan dari Filipina yang memangsa janda atau duda


Alocer - Adipati Neraka yang memerintah 36 legiun iblis

Amduscas - Adipati Neraka yang memerintah 39 legiun iblis

Andras - Adipati Neraka yang memerintah 30 legiun iblis

Angul - Setan dari Filipina yang membunuh orang dengan kapak

Apepi - Nama iblis berbentuk ular yang pada jaman Mesir kuno, merupakan musuh dari Ra, Dewa Matahari

Apophis - Iblis berbentuk ular yang berkeliaran di malam hari

Asmodeus - Iblis yang dibuang ke padang pasir oleh Raphael.

Astaroth - Juragan harta karun di neraka, sekaligus adipati neraka wilayah barat

Astarte - Seorang dewa kafir yang kadang ditugaskan di neraka

Aym - Adipati Neraka yang memerintah 26 legiun iblis. Alias Haborym.

Ayperos - Pangeran Neraka yang memerintah 36 legiun iblis

Azazel - Pengusung pasukan neraka yang juga dikenal dengan nama Satanel

Azidahaka - Raja sihir yang punya tiga kepala

B
Baal - Jendral nya pasukan neraka

Baalberith - sekertaris senior di neraka, alias Berith.

Balan - Pangeran neraka.

Bearded - Iblis yang nama aslinya tidak diketahui sehingga ketika orang mencari Philosopher's Stone, orang tidak mencarinya.

Beelzebub - Dewa lalat, seorang iblis dengan pangkat cukup tinggi di neraka

Belial - Alias Beliel dan Beliar. Pangeran tipu muslihat, Iblis sodomi
dan antikris

Belphegor - Iblis kekayaan yang didapat dengan licik

Beng - Versi setan nya gipsi ROmania

Buer - Pemimpin 50 legiun di neraka

Bumalin - Dewa bawah tanah nya orang filipina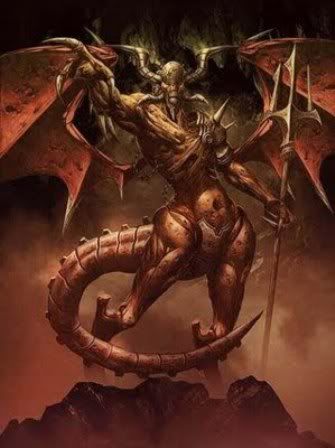 C
Caym - Presiden Neraka

Charon - Tukang perahu yang membawa jiwa jiwa menyebrangi Styx



Chax - salah satu adipati neraka yang juga dikenal dengan nama SCOX

Chernobog - Iblis perbudakan yang namanya memiliki arti: Dewa hitam. Dia membawa semua hal jahat di malam hari

Chemosit - Iblis dari kenya yang berbentuk separuh manusia dan separuh burung

Chu Kwai - Iblis dari Cina yang merupakan pencipta keanehean


Congo Zandor - Iblis yang dipujai di Haiti.

Cresil - Iblis ketidaksucian


D
Dagon - Tukang panggang di neraka

manggang apa ya gan??


E
Eblis - setan dalam versi Persia.Nama nya berarti keputusasaan

Elathan - Dewa kegelapan dari Celtic

Erebus - Iblis dari Yunani yang menjaga kegelapan di neraka

Er Mo - Raja iblis dari Szechuan

Eurynomus - Pangeran neraka yang gemar makan orang mati


F
Furfur - Pangeran Neraka yang memerintah 26 legiun iblis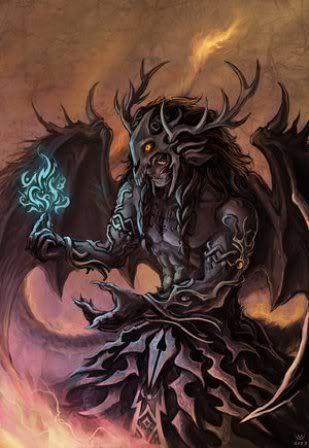 G
Geryon - setan penjaga neraka di karya Dante yang berbentuk centaur raksasa

Grand Bois - setan dari Haiti yang namanya berarti kayu besar. Dia adalah penguasa hutan dimalam hari

Guaricana - Setan dari Brazil. Dia di anugerahi kehormatan oleh Yurimagua untuk memukuli pria muda sampai berdarah



H
Hatu-Atu-Topun Alias Hetu-Ahin - Iblis wanita dari Polynesia yang berkeliaran di saat fajar

Hecate - Ratu sihir

Herensugue - Iblis berbentuk ular dari negara Basque

I
Ibwa - setan dari filipina yang makan mayat

Ifrit

LUCIFER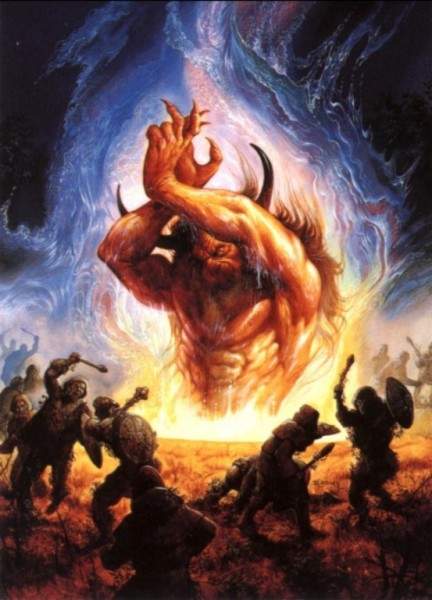 IFRIT
Ikwaokinyapippilele - Iblis dari Panama yang menyebabkan penyakit

Inmai - Iblis dari Myanmar yang tinggal di tiang depan rumah dan menyebabkan orang orang terkena duri

Irvene - Iblis berbentuk anjing yang tinggal di kepulauan Canary.

Itzcoliuhqui - Raja setan dari Aztecs yang membawa dingin dan kehancuran

J
Jahi - Iblis wanita dari Persia yang specialisasi nya adalah pelacuran

Jezebeth - Iblis kepalsuan.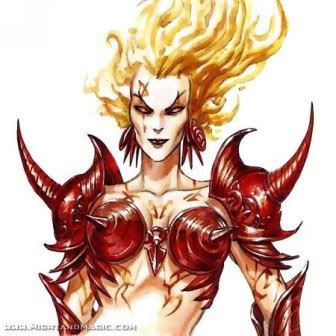 Jilaiya - Iblis dari India yang terbang dimalam hari serupa burung dan menghisap darah manusia. Tapi hanya manusia yang namanya pernah didengar nya


K
Karau - Setan dari Panama yang menyebabkan kematian di dunia

Kasdeya - Iblis kelima

Keron-Kenken - Roh jahat dari Patagonia yang makan bayi baru lahir dan minum air mata sang ibu

Kobal - Direktur Komedian dan entertainer di neraka


Kok-Lir - Iblis dari Borneo yang makan manusia

L
Lebara - Iblis dari Brazil yang dipuja oleh kultus Yoruban

Leonard - di Jerman dikenal dengan nama Urian, dia adalah jendral ilmu hitam dan ilmu sihir

Leviathan - Grand Admiral nya neraka yang berkelamin ganda dan yang membujuk adam dan hawa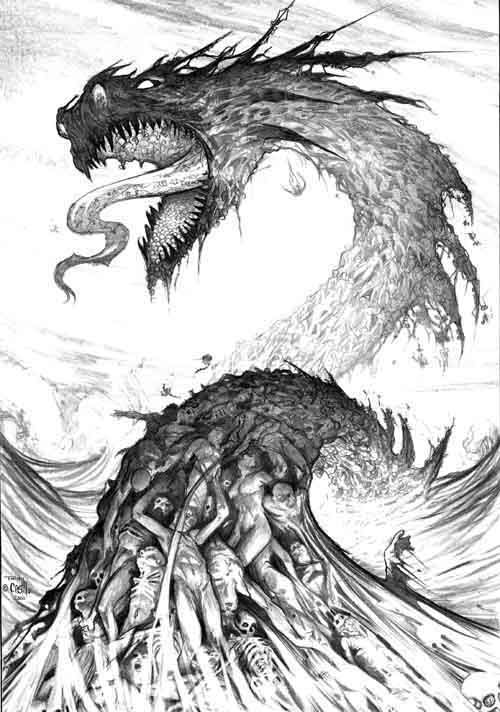 Lilith - Istri pertama adam, sebelum hawa, yang sebenarnya adalah iblis

Lilitu - Iblis kuno yang ada hubungannya dengan Lilith.

Lima - Iblis yang dipuja di Haiti.

Lingelson - Iblis yang dipuja di Haiti.

M
Mammon - Iblis keserakahan

Manuval - Iblis malam hari dari New Guinea.

Mastema - Pemimpin anak anak nya fallen angels.



Melchom - Bendahara neraka

Mephistopheles - Pelayan iblis

Merihim - Pangeran wabah penyakit

Moko-Titi - Iblis orang Maori yang berbentuk kadal

Moloch -Iblis dari aliran Judaism.

Mullin - Letnan nya Leonard (Leonard anak siapa ya gan?
)

Murmur - Iblis musik

Mush - Iblis kegelapan dari Iran.


N
Naburus - Pangeran neraka yang ada kaitan nya dengan Cerberus.

Nergal - Kepala polisi rahasia di neraka (kaya FBI gitu lah..)

Nybras - Pencipta kenikmatan di neraka

Nysrogh - Iblis rendahan

Nyx - istri sekaligus sodara cerebus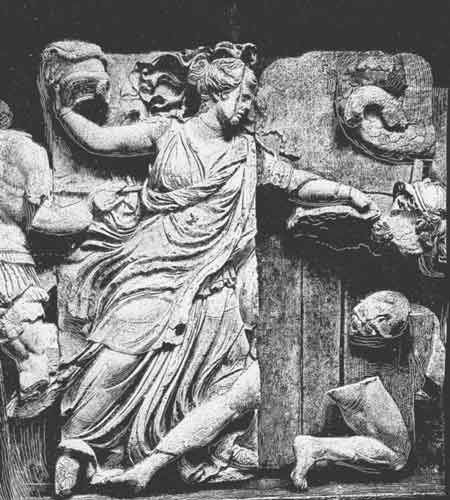 O
Olisha - Dewi iblis dari Haiti.Penyuka Voodoo dan ilmu hitam

Orias - Salah satu dari pangeran neraka

Oroan - dewa gerhana dari Guyana

Orthon - Iblis yang biasa merasuki tubuh

Orusula - Iblis Costa Rica yang biasanya menyaru jadi babi raksasa, busa mulutnya bisa membuat orang gatal gatal parah (babi kotor kalee....)

P
Paymon - MC nya neraka (buset dah)

Philotanus - Setan yang suka nemenin Belial pas lagi sodomi


Pitkis - Iblis malam hari dari baltik

pocongkkkk

Po-Tangotango - Iblis malam hari dari Maori

Proserpine - Putri neraka



Pyro - Pangeran kepalsuan

Q
Qanel - Iblis guatemala

R
Raum - Pangeran neraka yang memimpin 30 legiun neraka

Ravana - raja Iblis di agama hindu (rahwana)

Rimmon - duta besar neraka untuk rusia (wah ga bener nih..
)

Ronwe - yang memerintah 19 legiun di neraka

S
Sakarabru - Iblis kegelapan dari afrika

Samael - Malaikat maut dan pangeran udara

Satanael - Anak dewa bogomils

Semiazas - Pemimpin fallen angels

Set - Iblis malam harinya mesir kuno

Seth - Iblis bawah tanah nya orang mesir kuno



Shabriri - Iblis yang membuat orang buta

Sonneillon - Iblis kebencian

Succorbenoth - Iblis kecemburuan (nangkring deket kuping cewe cewe :ngacir)

Suster Ngesot

T
Tando Ashanti - Setan yang terus menerus meminta 7 wanita dan 7 pria dikorbankan

Tezcatlípoca - Dewa "kaca berasap" dari Aztec yang memiliki manifestasi ilmu hitam

Thamuz - Duta besar neraka

Tlacatecolototl - Dewa kejahatan dan malam hari dari Toltec, yang namanya bermakna Burung hantu yang rasional


Troian - Baltic demon of the night.

Tuyul

U
Ukobach - Insinyur di neraka

Uphir - Dokter di neraka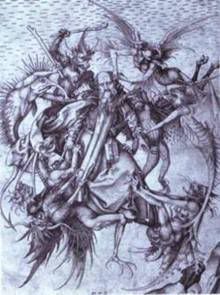 V
Valafar - Salah satu adipati neraka

Verin - Iblis ketidaksabaran (nongkrong di traffic light)

Vetis - Iblis yang membujuk orang orang suci

Vritra - Ular yang merupakan musuh dewa di agama Hindu

W
Wele Gumali - Dewa hitam dari kenya


Wewe gombel - (edited by Ts
)

X
Xa-Mul - Iblis dari filipina yang menelan orang bulat bulat

Xaphan - Iblis penjaga perapian di neraka

Xic - Iblis kematian tiba tiba dari guatemala

Y
Yalocan Tumulu - iblis kegelapan dan perbuatan buruk dari suriname

Yama - raja kematian di agama hindhu yang ditemani dengan 2 anjing untuk membawa manusia yang sekarat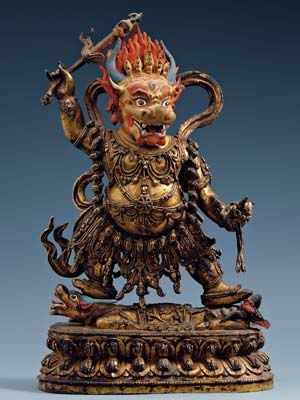 Z
Zaebos - Iblis separuh manusia, separuh buaya (yah..beginian juga banyak yang bukan iblis...
)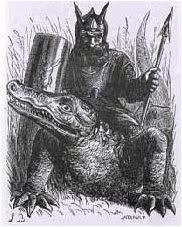 Zagam - Iblis tipu muslihat dan penipuan yang bisa mengubah air jadi anggur (lho kok kaya...)

sumber:stumbleupon