Dalam berbagai penelitian yang dilakukan, peristiwa atau lokasi kejadian diazabnya umat Luth AS ini adalah di Kota Sodom, di daerah yang sekarang dikenal dengan nama Laut Mati atau di danau Luth yang terletak di perbatasan antara Israel dan Yordania.

Quote:
Berikut ini cerita mengenai dihancurkannya umat Nabi Luth tersebut dalam Alquran.''Mengapa kamu mendatangi jenis lelaki di antara manusia, dan kamu tinggalkan istri-istri yang dijadikan Tuhanmu untukmu, bahkan kamu adalah orang-orang yang melampaui batas.''(QS Asy-Syu'araa [26]: 165-166)
Ajakan Nabi Luth ini justru ditolak oleh umatnya. Bahkan, tatkala Allah SWT mengutus dua orang malaikat dalam wujud manusia kepada Nabi Ibrahim dan Luth (QS Adz-Dzaariyaat [51]: 32, Hud [11]: 62-81), mereka malah meminta Luth untuk menyerahkan kedua tamunya itu untuk dinikahkan kepada mereka. Lalu, Allah menghancurkan umat Luth ini akibat perbuatannya.
Dijelaskan umat Nabi Luth ini dihancurkan dengan cara dijungkirbalikkan (yang atas ke bawah, dan bawah ke atas) lalu dihujani dengan batu belerang yang terbakar secara bertubi-tubi. Selama ribuan tahun terkubur, kini jejak atau sisa-sisa kehancuran umat Nabi Luth ini berhasil ditemukan oleh para ahli arkeologi di sekitar Laut Mati.
Pada tahun 1924 seorang ahli purbakala William Albright melakukan penelitian disekitar laut mati. Beberapa orang yang bersama William Albright mencari keberadaan sisa-sisa Kota Sodom dan Gomorah, hingga akhirnya mereka menemukan situs purbakala Bab-Edh-dhra (dibaca: Babhedra).
Spoiler for Babhedra:
Bab-edh-dhra adalah makam terbesar khas zaman perunggu yang mereka gali, panjangnya 15 meter dan lebarnya 7 meter
Mereka juga menemukan makam berisi perhiasan emas dan menggali lebih 700 tembikar yang merupakan hadiah penguburan, termasuk tempat parfum kecil dan banyak benda lain, seperti kain.
Konon, makam ini telah digunakan selama 1000 tahun lamanya, dari zaman Ibrahim hingga penghancuran Kota Sodom. Namun, tak ada apa pun untuk mengaitkan pemakaman kuno itu dengan Sodom, tempat kehidupan Nabi Luth dan umatnya.
Keberadaan umat Nabi Luth di sekitar laut mati ini diperkuat dengan ulasan National Geographic edisi Desember 1957. ''Gunung Sodom, tanah gersang dan tandus muncul secara tajam di atas Laut Mati. Belum pernah seorang pun menemukan Kota Sodom dan Gomorah yang dihancurkan, namum para akademisi percaya bahwa mereka berada di Lembah Siddim yang melintang dari tebing terjal ini. Kemungkinan air bah dari Laut Mati menelan mereka setelah gempa bumi.''
Setelah sekian lama tidak ada kabarnya tentang keberadaan umat Nabi Luth, pada tahun 1967 ahli purbakala lainnya, Paul Lapp dan Thomas Schaub, melakukan penggalian kembali di sekitar Laut Mati. Dan kemudian, penggalian diteruskan oleh Werner Keller, seorang ahli arkeologi asal Jerman di sekitar Laut Mati.
Dengan merujuk pada keterangan Alquran mengenai dijungkirbalikkannya kota tempat kediaman umat Nabi Luth, Werner Keller menyatakan:
''Bersama dengan dasar dari retakan yang sangat lebar ini, yang persis melewati daerah ini, Lembah Siddim, termasuk Sodom dan Gomorah, dalam satu hari terjerumus ke kedalaman. Kehancuran mereka terjadi melalui sebuah peristiwa gempa bumi dahsyat yang mungkin disertai dengan letusan, petir, keluarnya gas alam serta lautan api.''
Quote:
Werner percaya bahwa umat Nabi Luth dihancurkan melalui sebuah gempa bumi yang sangat hebat. Peristiwa tersebut dilukiskan dengan keterangan Alquran surah Asy-Syu'araa ayat 173. ''Kami menghujani mereka dengan batu belerang keras sebagaimana tanah liat yang terbakar secara bertubi-tubi.''
Berkaitan dengan hal ini, Werner Keller menulis: ''Pergeseran patahan membangkitkan tenaga vulkanik yang telah tertidur lama sepanjang patahan. Di lembah yang tinggi di Jordania dekat Bashan masih terdapat kawah yang menjulang dari gunung api yang sudah mati; bentangan lava yang luas dan lapisan basal yang dalam yang telah terdeposit pada permukaan batu kapur.''

Tanda-tanda nyata yang disampaikan oleh Danau Luth tentu sangat menarik. Umumnya, kejadian yang diceritakan dalam Alquran terjadi di Timur Tengah, Jazirah Arab, dan Mesir. Tepat di tengah-tengah semua kawasan ini terletak Danau Luth. Danau Luth, serta sebagian peristiwa yang terjadi di sekitarnya, patut mendapat perhatian secara geologis. Danau tersebut diperkirakan berada 400 meter di bawah permukaan Laut Tengah. Karena lokasi terdalam dari danau tersebut adalah 400 meter, dasarnya berada di kedalaman 800 meter di bawah Laut Tengah. Inilah titik yang terendah di seluruh permukaan bumi. Di daerah lain yang lebih rendah dari permukaan laut, paling dalam adalah 100 meter.

Tinggi Kadar Garam

Quote:
Spoiler for laut merah:
Quote:
Kandungan garam danau luth sangat tinggi, Laut Mati memiliki kadar garam 31,5%, kira-kira 8,6 kali lebih tinggi daripada laut yang lai. Oleh karena itu, tidak ada organisme hidup, semacam ikan atau lumut, yang dapat hidup di dalam danau ini. Hal inilah yang menyebabkan Danau Luth sering disebut sebagai "Laut Mati".

Kejadian yang menimpa kaum Luth yang disebutkan dalam Alquran berdasarkan perkiraan terjadi sekitar 1.800 SM. Berdasarkan pada penelitian arkeologis dan geologis, peneliti Jerman, Werner Keller, mencatat bahwa Kota Sodom dan Gomorah benar-benar berada di Lembah Siddim yang merupakan daerah terjauh dan terendah dari Danau Luth, dan bahwa pernah terdapat situs yang besar dan dihuni di daerah itu.

Konon, jika seseorang mendayung melintasi Danau Luth ke titik paling utara dan matahari sedang bersinar pada arah yang tepat, ia akan melihat sesuatu yang sangat menakjubkan. Pada jarak tertentu dari pantai dan jelas terlihat di bawah permukaan air, maka akan tampaklah gambaran bentuk hutan yang diawetkan oleh kandungan garam Laut Mati yang sangat tinggi. Batang dan akar di bawah air yang berwarna hijau berkilauan tampak sangat kuno. Lembah Siddim, di mana pepohonan ini dahulu kala bermekaran daunnya menutupi batang dan ranting, merupakan salah satu tempat terindah di daerah ini. Keindahan Laut Mati ini dilukiskan seperti ''like the garden of God.''
Pompei, Ditimpa azab serupa
Quote:
Kisah-kisah umat terdahulu hendaknya menjadi pelajaran bagi seluruh umat manusia. Namun banyak yang tidak peduli dengan peringatan tersebut. Kehancuran umat Nabi Luth yang melakukan hubungan seksual dengan sesama jenis, rupanya tak cukup menjadi pelajaran dan peringatan.
Itulah yang dilakukan masyarakat di Kota Pompei yang terletak di sebelah timur Gunung Vesuvius, Kota Naples, Italia. Pompei merupakan sebuah simbol kemerosotan dari Kekaisaran Romawi yang juga melakukan perilaku seksual menyimpang sebagaimana umat Luth, dan akhirnya mereka pun mengalami nasib serupa. Kehancuran Pompei disebabkan oleh letusan Gunung Vesuvius.
Spoiler for pompeii: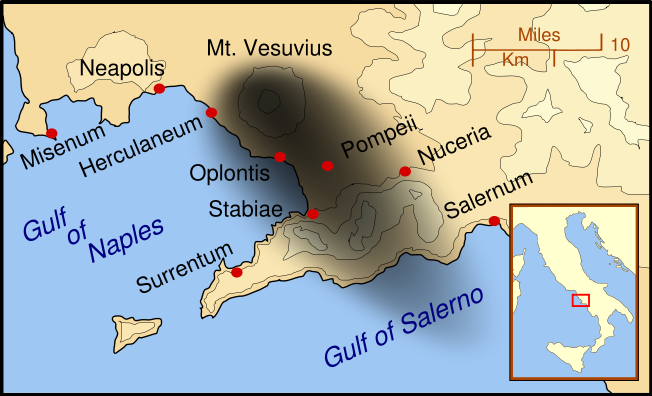 Gunung Vesuvius adalah simbol bagi Italia, terutama Kota Naples. Karena berdiam diri selama dua ribu tahun terakhir, Vesuvius dinamai 'Gunung Peringatan.' Dinamakan demikian, karena bencana yang menimpa Sodom dan Gomorah sangat mirip dengan bencana yang menghancurkan Pompei.
Spoiler for gunung vesuvius:

Catatan historis menyebutkan, Kota Pompei adalah sarang foya-foya dan perilaku menyimpang. Kota ini dikenal dengan meningkatnya pelacuran begitu tinggi sampai-sampai jumlah rumah bordil tidak terhitung lagi. Tiruan alat kelamin dalam ukuran aslinya digantungkan di depan pintu-pintu rumah bordil. Menurut tradisi yang berakar dari kepercayaan Mithra ini, organ seksual dan persetubuhan tidak seharusnya disembunyikan, namun dipertontonkan secara terang-terangan.
Hingga akhirnya, letusan Gunung Vesuvius menghancurkan mereka yang tak sempat melarikan diri.

Dari beberapa temuan yang dilakukan terhadap Kota Pompei, ditemukan adanya sebuah keluarga yang sedang menyantap makanan yang membatu saat itu juga. Bahkan, banyak pasangan ditemukan membatu dalam keadaan sedang berhubungan badan sesama jenis. Wajah dari beberapa jasad membatu yang digali dari Pompei tidak rusak, ekspresi wajah-wajah tersebut pada umumnya menunjukkan kebingungan.
SUMBER : http://patasnews.blogspot.com